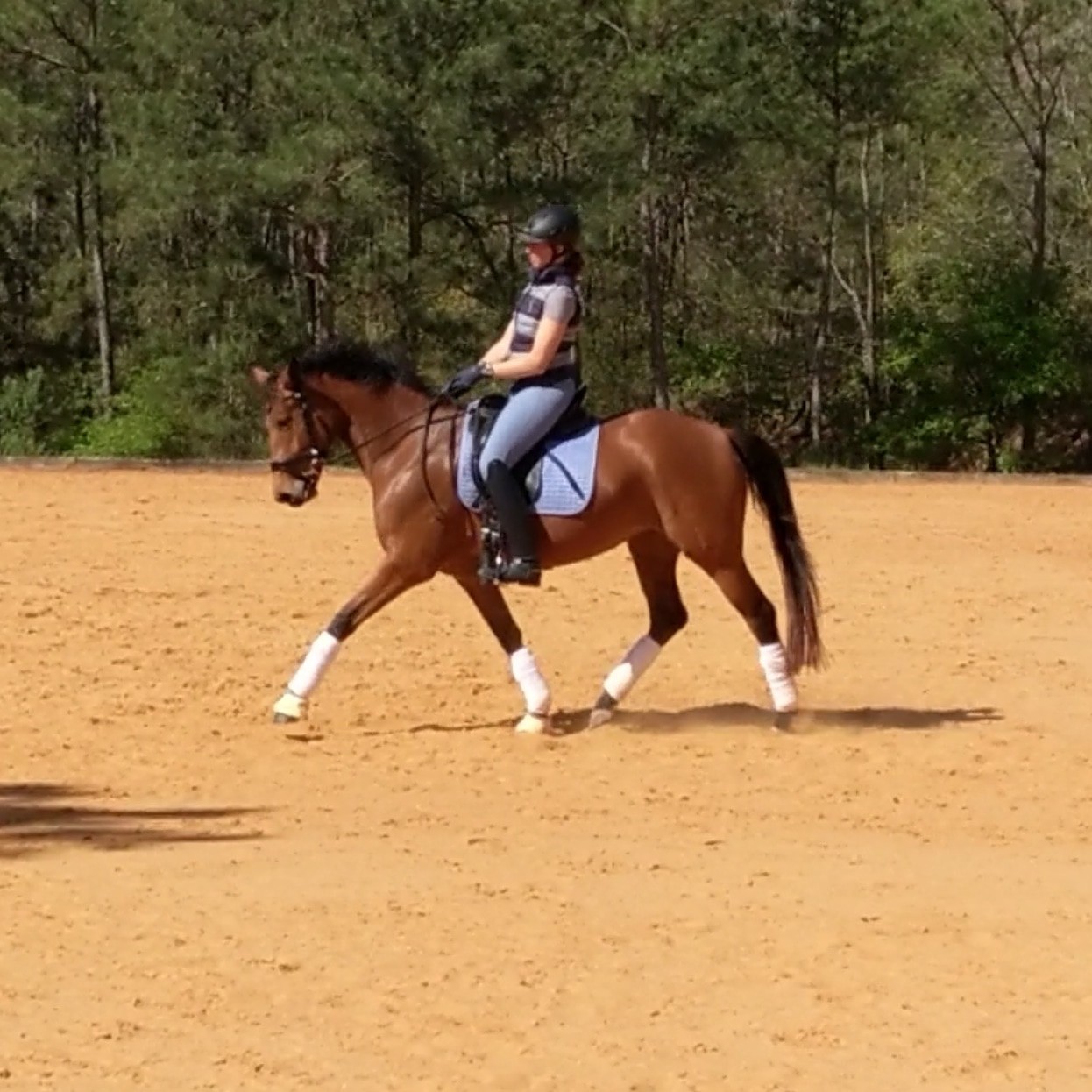 Megan has had a love affair with horses from a very young age that only deepened with time. Through her first horse, an unruly QH/Arab cross, Megan learned the importance of problem solving at the young age of nine. In high school, she started her first horse under saddle, re-habbed a few OTTB's, and ultimately fell in love with the process of starting horses under saddle.
In Megan's young 20's she was invited to become a part of the Parelli Natural Horsemanship teaching Faculty Team at Pat and Linda's ranches in Colorado and Florida. This year and a half opportunity allowed her to work with a wide range of horses, hone her teaching abilities, and start more youngsters under saddle. Megan returned to South Alabama with a purpose to start Hope Valley Farm: a place where top competitors were made in Dressage with a focus on a naturally classical foundation to keep the horse's dignity and spirit intact through the training process. Megan's goal for every horse that comes through the barn doors at HVF is that it learns to love being around people and to love its job. So far, the results have proven the effectiveness of her program.
Not long after returning home to start HVF, Megan developed a relationship with Hans Lengers at Indian Land Farm. Hans' breeding program of Hanoverian horses has produced several amazing prospects. Megan has had the opportunity to raise and train several of Hans' youngsters from weanlings and the experience has been a joy. Indian Land Farm has been a constant source of quality bred young prospects to keep a pipeline of horses with upper level potential flowing into Megan's program.
As HVF has grown and the program has developed, Megan has had the opportunity for her training program to be shaped by some world renowned Equestrians: Karen and David O'Connor, Walter Zettl, Debbie McDonald, Courtney King Dye, Gunnar Ostergaard, Jeremy Steinberg, Janet Foy, JJ Tate, and Charles de Kunffy. Megan makes every effort to continue to develop her own education and keep her training system fresh and progressive.
Megan Compton Dressage and Hope Valley Farm are, and will continue to be, a work in progress. Our team is made up of people who first, love the horse, and second, have a determination to help our horses reach their highest potential. Through engaging cross training we endeavor to produce quality athletes that are physically, mentally, and emotionally healthy so they are prepared to excel in a competitive career.